Budding astronomers from across the Canberra region now have greater access to high-quality telescopes, thanks to the expansion of a unique facility at The Australian National University's (ANU) Mount Stromlo Observatory. The McNamara-Saunders Astronomical Teaching Telescope 2 (MSATT 2) is designed for students in Years 9 to 12. Its construction follows the success of MSATT 1, completed in 2017.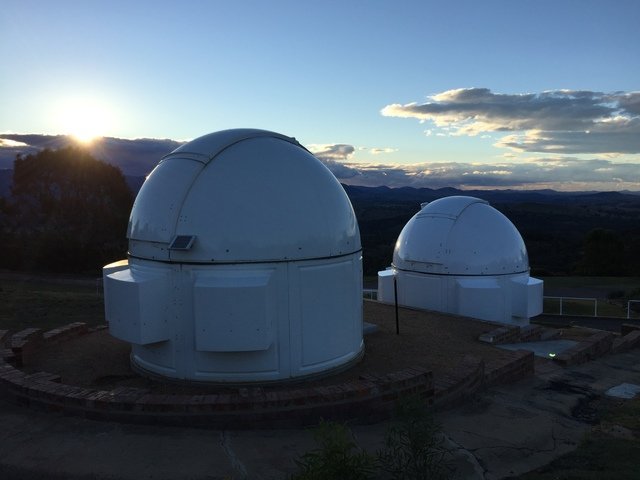 Science teacher and MSATT manager Geoff McNamara came up with the idea while looking for ways to encourage his students to explore the mysteries of the universe.
"Rather than duplicating MSATT 1, we decided to build a facility which complements the original," Mr McNamara said. "MSATT 2 has a larger aperture telescope, to counter the ever-increasing light pollution in Canberra."
The MSATT equipment is housed in two purpose-built domes at Mount Stromlo Observatory. They occupy the site of a telescope destroyed in the 2003 bushfires.
"The brilliant thing is, no experience with astronomy or telescopes is necessary to operate the equipment. Any student from the ACT region can apply for telescope time," Mr McNamara said. "The telescopes have so far performed almost flawlessly and are in constant demand."
[rand_post]
Students who use MSATT also have access to mentors who can help them analyse and report their findings. These volunteer roles are largely filled by graduate students from the ANU Research School of Astronomy and Astrophysics (RSAA).
"It's a pleasure for ANU to be able to help high school students get hands-on experience doing astronomy," RSAA Director Professor Matthew Colless said. "We hope it will lead to more students undertaking science courses in high school and university."
Both MSATT 1 and 2 were largely funded by scientist Dr Denis Saunders and his wife Vee, with RSAA providing the site and assisting with construction and operations. MSATT is a collaborative project between donors, ANU and the ACT Education Directorate. MSATT 2 will be officially opened at a ceremony on 25 September.